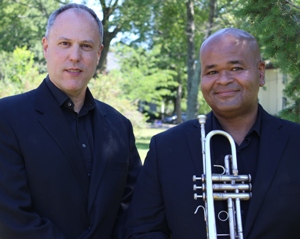 OSTON — Friday, September 29, 2017 • 7:00 p. m.  • Richard Kelley, trumpet, and composer/organist Richard J. Clark team up again at St. Cecilia Church, Boston in a concert of American composers Clark, Hovhaness, Pinkham, and Sowerby. This concert offers Boston audiences a preview of their upcoming performance at St. Patrick's Cathedral in New York on All Souls Day (11.2.2017 @7pm). St. Cecilia Church is an extraordinary sacred space with its opulent acoustics and the Smith & Gilbert Organ (IV/53 • 3,023 pipes.)
Richard Kelley, trumpet, has been a soloist with the Boston Symphony Orchestra and plays with the Boston Pops. He has performed with artists such as Andrea Bocelli, Ray Charles, Steven Tyler, and James Taylor. He can be heard on a variety of recordings including the Oscar and Golden Globe-winning soundtrack to Disney's Pocahontas and Stephen Paulus' Grammy-nominated Concerto for Two Trumpets and Band.
"The career of trumpeter Richard Kelley is not only a testament to the versatility of his instrument, but also to the ability of one individual to excel across the broadest possible range of music." — Brian McCreath, WCRB
Composer and organist Richard J. Clark's eclectic appearances range from the Celebrity Series of Boston and the Boston Philharmonic to Jive Records (Sony BMG), Fenway Park, and the New York Songwriter Circle at the historic Bitter End in Greenwich Village. Clark's compositions have been heard worldwide including performances under the baton of Fernando Malvar-Ruiz, The American Boychoir, EWTN, SiriusXM, and the Russian premiere of Ascent to Freedom by organist Mark Husey. He is the Director of Music & Organist at St. Cecilia Parish, Boston, and St. Mary's Chapel, Boston College.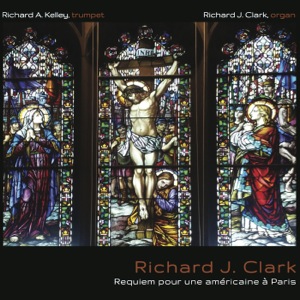 These concerts will feature two works composed specifically for Richard Kelley: Pinkham's Scenes and Clark's Requiem pour une américaine à Paris. Recorded by Kelley and Clark, Requiem has been featured on SiriusXM's Sounds from the Spires, various radio programs around the US, and will be performed at Saint-Eustache in Paris in 2018.
Requiem – Order CD
Requiem – Order from iTunes
When: Friday, September 29, 2017 • 7:00PM
Where: St. Cecilia Church, 18 Belvidere St., BOSTON, Massachusetts 02115
Admission: FREE
Event website: www.stceciliaboston.org
Press Contact: Mark Donohoe
Phone: 617-536-4548 ext. 115
Email: RJC AT rjcceciliamusic DOT com