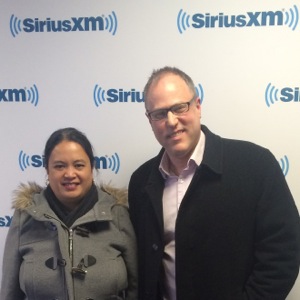 RECENTLY joined Dr. Jennifer Pascual, Director of Music for Saint Patrick's Cathedral in New York City and host of Sounds from the Spires, at the SiriusXM Studio in Midtown Manhattan. Her weekly program can be heard on SIRIUSXM 129 Radio, The Catholic Channel.
My six-year-old son put me in my place before our interview. My daughter, who is eight, said, "Daddy is lucky because he is famous because he is being interviewed." My son responded: "No, he's not famous. Never, ever! Only God is famous." This, coming from a boy who loves getting into mischief, especially if it gets a laugh from his siblings and disapproval from his parents. But here he was dead serious and spot on!
• PODCAST • Broadcast on 2.28.2016:
PLEASE READ MY MIND
Don't believe everything you hear on the radio. As my choirs well know, it is a requirement that they must read my mind during rehearsal; not everything that comes out of my mouth is reliable. As such, there are two corrections here: 1) "I shall live in the house of the Lord all the days of my life" is from Psalm 27, not Psalm 122 as stated. 2) Our Lady of the Atonement R. C. Church is in San Antonio, Texas, not Houston. I knew that. I've always known that. But I said Houston. Please read my mind.
MUSIC FEATURED ON THIS PROGRAM:
• Communion Antiphons for Lent | SATB, Organ, Assembly • World Library Publications • Recordings Directed by Paul French
• Variations on Misereris Omnium | Introit for Ash Wednesday • St Cecilia Schola • Variations played on the Smith & Gilbert Organ at St. Cecilia Church, Boston
• By the Rivers of Babylon | Allesandra Cionco, soprano; Michael Dahlberg, cello; R. Clark, piano
• Magna Opera Domini | Commissioned for the ordination of Bishop Steven Lopes. • Recording Directed by Edmund Murray