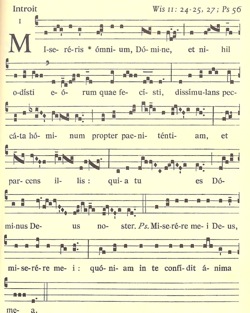 The Ash Wednesday Collect from the Roman Missal refers to Lent as "this campaign of Christian service…" Through this campaign, Lent is marked by two themes: preparation for baptism and penance. But Lent is also a joyful season with its expectation of resurrection and as a time of healing. In the Introit for Ash Wednesday, Misereris Omnium, it is deeply significant that the very first prayer of Lent speaks of God's infinite mercy: "Your mercy extends to all things, O Lord, and you despise none of the things you have made. You overlook our sins for the sake of repentance. You grant them your pardon, because you are the Lord our God." –Wisdom 11:24-25, 27; Psalm 57 (56)
Two Lenten Mediations  was premièred a St. Cecilia Church in 2002 by Marco Facchin, organ, Michael Calmès, tenor, and the St. Cecilia Schola.
I. Misereris Omnium–Atonement, Transformation is based on the Introit for Ash Wednesday. Here the schola sings the Intoit, followed by organ variations. The transformation and variety of colors in the organ indicate that through the Lenten season, we do not end up in the same place that we started. Beginning with the thick and rich clarinet stop in the tenor, the piece explores many colors, ending with very light 4′ flutes, in anticipation of Christ's resurrection.
II. Lover of Souls also takes its text from the Ash Wednesday Introit, with the added line from scripture Wisdom 11: 27: "But you spare all things, because they are yours, O Lord, Lover of Souls." This work with contemporary classical harmonic language is beautifully sung by Michael Calmès, ternor.